FHAR

Who We Are

What We Do


Principles

Services

Contact Us
How To Help


Donate


Volunteer


Careers

Partnerships


Zief Family Foundation


K of C

PLEASE SUPPORT US WITH YOUR TAX-DEDUCTIBLE DONATION
We are proud of the FHAR programs and the dedicated staff and volunteers that provide the services for our clients. Most importantly, we are proud of the results: individuals with developmental disabilities are maximizing their potential for growth and independence.
We plan to continue offering these innovative programs, as well as expand our services ..... but we cannot do it alone!
Enter Here
to
to make your donation.
The Knights of Columbus present Executive Director Dave Curson with a Donation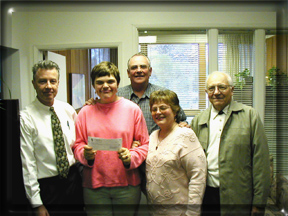 L to R: Dave Curson, Executive Director, FHAR; Jeanine Tavinier, FHAR ESS participant;
Fred and Pam Tavinier, parents; and Don Rottinghouse, Knights of Columbus
---
20 East 20th Avenue,
San Mateo, California 94403
(650) 403-0403 Fax (650) 403-0404